Snell Engineering Consultants Firm
Service Area
The Firm
Snell Engineering Consultant Service Areas
The roots of Snell Engineering Consultants can be traced back to William (Bill) Snell's move to Sarasota, Florida, and the establishment of an engineering practice. This laid the groundwork for Brian Snell to follow with the official founding of Snell Engineering Consultants in 1993. Since then, the company has built a reputation of integrity, professionalism, and reliability that has followed them as more projects push it toward a multi-state endeavor. This reputation persisted through the early years of the company's growth in both legacy and client base. Even as leaders shifted and new team members joined, each with their own particular strengths and areas of expertise, the reputation has remained steadfast.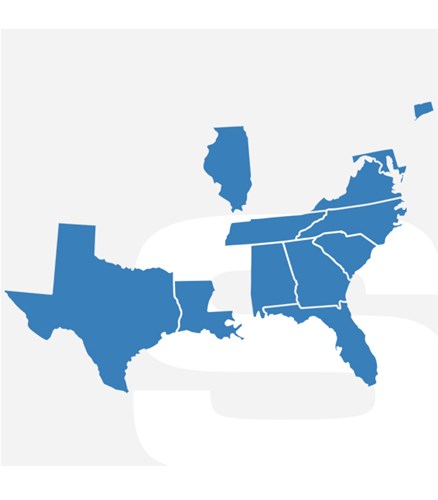 With our highly experienced, qualified, and certified team of engineers, we can offer everything from full design services to special inspections to our clients – all with the high level of aptitude we have become known for. As we have grown into more and more locations in the United States, we never sacrificed our initial focus on the quality of service as established decades ago.
Even though Snell began with a single operating location in South Florida, our service area has since expanded over the years to include projects across the Eastern United States. In over half a dozen states, our structural engineers work closely with local architects, contractors, and building owners to provide expert solutions to a diverse range of projects.